Opis
WHY IS THIS CHAIN SO SPECIAL?
During our work on the lube development we have learned that initial application of any liquid lubricant has a profound impact on the chain performance and friction. It also depends on how well you strip the chain from the factory anti-rust substance. For this reason, we have developed our special multi-stage vacuum process for the ProTour teams to squeeze extra precious watts on top of the best performing lube. This is what differs us from everyone else.
With "at home" lubricating methods or ultrasonic application, you can achieve great results, if done correctly. But, this process is simply on another level of performance.
Another advantage of our chains is that they are also vacuum packed to retain the precise level of moisture. Our packaging allows the chain storage for a prolonged period with guaranteed top-level performance; this is especially important when you race.
Most cyclists don't know this, but waxes in general and certain additives prefer a slightly humid environment. If your chain is stored at home without vacuum-packaging for a prolonged period, the wax will dry and increase in friction. There is also the metal-oxidation risk that increases friction. Frequently using the chain on the bike is not the same as the chain stored away in a box without any movement.
WE ARE AN OFFICIAL SUPPLIER TO UAE TEAM EMIRATES AND TEAM JUMBO VISMA
absoluteBLACK is an Official supplier of GRAPHENlube and lubricated chains to the UAE Team Emirates, supplier to Team Jumbo Visma as well as supplier to several additional Pro Tour Teams under non-disclosure agreement.
NOT GENERATING WATTS, BUT REDUCING WATT LOSSES – LAB TEST FINDINGS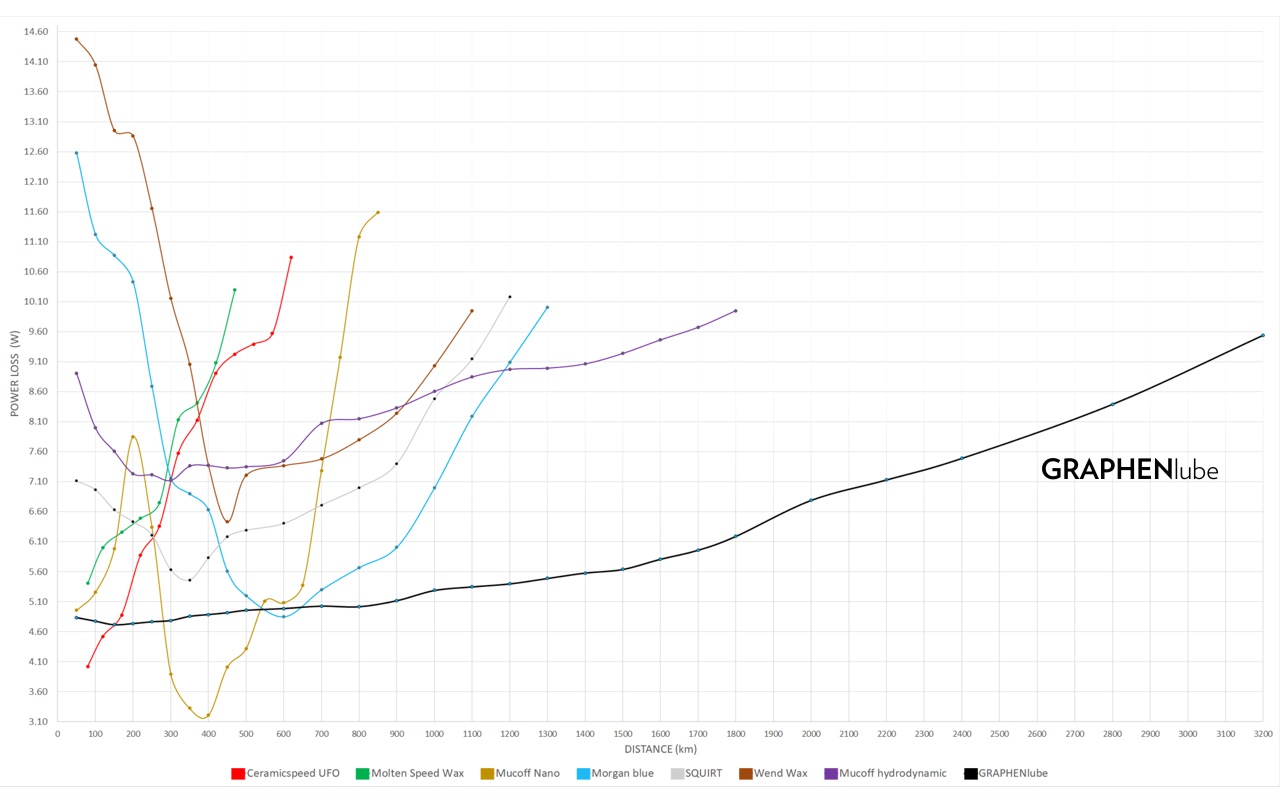 Power Loss vs distance travelled among different lubricants. Results from an independent, single lube application, double blind test where the test chains were appropriately prepared by Zero Friction Cycling* then numbered and sent directly to Wheel Energy company to conduct a friction test at 250W resistance, 100rpm cadence, 40km/h speed, 25deg C and 25% humidity. The test continued until chain reached 10W losses. Chains and testing machine had around 50km warmup/break-in period. (* "Muc-off Nano" was a factory NTC chain)
This test reveals how lubricant and its friction changes over driven kilometres on a single lubricant application. The higher the number the more Watts you are losing. With "wet/semi wet" lubes friction first decreases because chain gets drier and therefore stiction decreases. Until it reaches more or less dry state – the friction then increases due to starvation of lubricant and abrasion. For "dry" lubes/films, stiction is already minimal, so they will only increase in friction due to coating wearing out.
HOW TO LUBRICATE YOUR CHAIN WITH GRAPHEN LUBE
1. Wipe the chain with a cloth. (Use gloves)
2. Shake the bottle. Apply the lube continuously to the inside of a chain turning cranks backwards (simple dripping procedure).
3. Let the lube dry for a min. of 2h before riding, ideally overnight.
*For absolute maximum Racing performance where every watt counts, re-lube (by dripping) every 600km or sooner in dry conditions and after every wet ride. If you race, apply a day before the race.
*For everyday riding you can re-lube (by dripping) between 900-1200km in dry road conditions and after 3-4 rides in wet conditions or when you hear chain becomes dry.
*Always apply to a dry chain.
Designed in England. Manufactured in Poland (EU).
GRAPHENlube is a registered trademark of absoluteBLACK. Lubricant composition protected by several patents pending. Bottle shape protected by design patent. #GRAPHENlube, #chainlube, #chainwax